RAUC v1.1 Released
Just before the beautiful shine of the new has fully disappeared from RAUC 1.0, it is now time to bring out a new release: v1.1.
https://github.com/rauc/rauc/releases/tag/v1.1
This release comes with some remarkable memory leakage fixes you should not miss.
As new features, we now have full support for reading GRUB2 status like we had for the other bootloader implementations already.
A minor feature but quite useful for debugging certificate issues is the new ability to use --dump-cert without requiring successful verification.
Especially system integrators may like the support for using multiple keyring certificates from a directory. This will avoid conflicts when installing multiple certificates from different build system packages.
As a result of various community feedback and discussion, this release adds a bunch of documentation updates targeting potential misunderstandings and explains some unclear topics in more detail.
We would like to say thank you to everyone who tested for v1.1, reported issues or contributed new features!
For those using A+B+recovery setups where A+B are controlled via the default boot selection logic and recovery is booted as fallback without this mechanism, RAUC also allows specifying the booted slot's name (not only the bootname) via commandline (e.g. rauc.slot=recovery.0).
Thanks to all contributors since v1.0: Angus Lees, Arnaud Rebillout, Beralt Meppelink, Enrico Jörns, Evan Edstrom, Ian Abbott, Jan Lübbe, Michael Heimpold, Rasmus Villemoes, Ulrich Ölmann, Vitaly Ogoltsov
---
Weiterführende Links

Welcome to our booth at the Embedded World 2022 in Nürnberg!
---
In its current master branch, RAUC now supports encrypted Bundles. This tutorial will introduce you to the basics of using encryption in RAUC and show how to use it in a simplified Yocto setup with the meta-rauc Layer.
---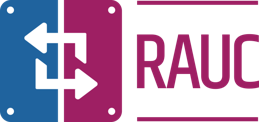 While major changes are about to come, the RAUC v1.6 release already paves the way under the hood. Built-in streaming support will be one of the next features built on top of the 'verity' bundle format in RAUC.
---