Chemnitz Linux Days 2019
As last years, Pengutronix will again support the Chemnitz Linux Days, both by sponsoring the event, and by being there with a large crowd.
A team of 15 pengutronix people will be there, listening to interesting lectures. We are looking forward to lots of fruitful talks with community people!
Like in the last years, we'll have a booth. So come around and let's talk about recent Embedded Linux topics and our work on a variety of Open Source programs!
We'll present some of our current work with a few demos; this year, we'll show:
Redundant Over-The-Air Updates of devices with our RAUC demonstrator
Automated unit testing of hardware, written in Python, with the new labgrid demonstrator.
Of course we'll also bring lots of Pengutronix pencils (our best selling product!) and penguin stickers with us! It's another opportunity to get stickers for barebox, labgrid, PTXdist and RAUC.
Two of our colleagues will have a talk at CLT:
Our talks at CLT 2019
Time
Room V4
Room V5
Sa, 10:00
Managementwerkzeuge aus der Open-Source-Entwicklung (Marie Mann) (Link)
Su, 13:00
GDB - Erweiterungen mit Python (Michael Olbrich) (Link)
We are looking forward to meeting you at Chemnitz Linux Days!
PS: A personal remark: If you like to watch the schedule on your mobile phone, try the android app Giggity. The app is able to import and show the whole schedule in iCal format. To get the schedule into the app, scan the following QR code directly from within Giggity:
---
Further Readings

After the Corona break, the Chemnitzer Linux-Tage will actully take place in real life again, and the Pengutronix team will have eight (!) talks there.
---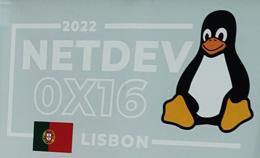 After a longer time with online-only events, the Netdev 0x16, a conference about the technical aspects of Linux Networking, was organized as hybrid event: online and on-site at Lisbon.
---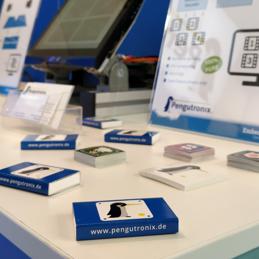 This year Pengutronix again has a Booth at the Electronica trade fair in Munich, Germany. You find us in Hall B4 Booth 104 (map).
---