RAUC v0.1.1 released
RAUC is making progress, and my colleagues Enrico Jörns and Jan Lübbe finally pushed out a new release today that reflects what happened during the last months. Updating embedded linux systems in the field in a secure and robust way becomes more and more important; we had many interesting talks with our customers during the last time, and some of the new ideas are already finding their way into the codebase. However, there is still a lot of work ahead, and if you have more ideas, either drop us a note on the community channels, send patches or github pull requests, or ask for commercial help!
---
Further Readings

Welcome to our booth at the Embedded World 2022 in Nürnberg!
---
In its current master branch, RAUC now supports encrypted Bundles. This tutorial will introduce you to the basics of using encryption in RAUC and show how to use it in a simplified Yocto setup with the meta-rauc Layer.
---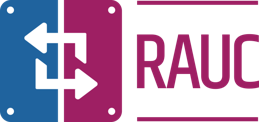 While major changes are about to come, the RAUC v1.6 release already paves the way under the hood. Built-in streaming support will be one of the next features built on top of the 'verity' bundle format in RAUC.
---