Pengutronix at FOSDEM 2022
"FOSDEM is a free event for software developers to meet, share ideas and collaborate. Every year, thousands of developers of free and open source software from all over the world gather at the event in Brussels." -- FOSDEM
Sadly in 2022 we, again, gathered online instead of in Brussels. But this did not stop us from searching local supermarkets for Belgian beers and baking our own waffles. (What would FOSDEM be without beer and waffles!)
We want to thank the FOSDEM team, all volunteers, devroom staff, speakers and guests for this great event. We hope to meet in Brussels in 2023!
In this post we want to recommend a few talks that we think are especially interesting.
Jan's Suggestions
Chris' suggestions
KiCad project update
KiCad is the open source PCB design tool for professionals. At Pengutronix we use KiCad for all electronics development such as the USB-SD-Mux.
Like every year at FOSDEM, Wayne Stambaugh talked about the state of the project. And like every year the KiCad developers have delivered a lot of useful new features for the KiCad 6 release.
This talk is a must-see if you use KiCad!
Advanced PCB simulation with KiCad - introduction to IBIS and FEM-based simulations
At the moment, KiCad has support for SPICE simulations using ngspice as the backend. SPICE simulations allow us to model time- and frequency- domain behavior of electronic components. This is a great tool if you want to develop, for example, an analog circuit around an OpAmp.
In this talk Fabien Corona presents his work on two more simulation approaches for KiCad:
First: integrate a FEM (finite element model) simulation into KiCad. He shows a prototype based on KiCad, Gmsh and Sparselizard that allows us to do current density, voltage drop, plane capacitance analysis and more on a KiCad PCB.
Second: the integration of IBIS-models into the SPICE simulation in KiCad. IBIS-models contain an electrical description of the properties of an input or output pin of an integrated circuit. With IBIS capabilities, the KiCad SPICE simulation would not only be able to simulate simple analog circuits but also complex mixed signal ICs in their circuit.
These functions currently only exist in a fork of KiCad and are not yet ready for production. But his talk lets me really hope that these features will be available in KiCad in a few years!
Recording: not yet available
A brief history of spreadsheets - from LANPAR to VisiCalc to Lotus to LibreOffice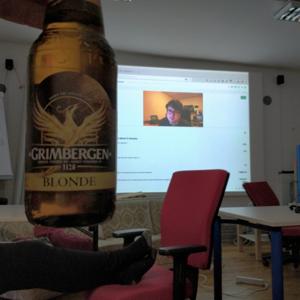 Ever wondered why spreadsheets look like a relic from the 1970s? That is because a lot of their properties are based on software from the last century...
In this talk Jim Hall traces the origin of modern office software back to 1969. He even does live demos using the original software.
This talk is not so much about open source, but it is a good opportunity to grab a cold beverage and relax. 🙂
Recording: not yet available
---
Weiterführende Links
---
---
---
---
---
---
---
---