Artikel mit dem Tag "elce"

The Embedded Linux Conference Europe (ELCE) is the one biggest meetup of Embedded Linux developers in Europe. As usual Pengutronix has attended this conference - but this year from the warmth of our homes.
---

Das Programm der diesjährigen Embedded Linux Conference Europe (ELCE) wurde in den letzten Tagen veröffentlicht. Wie auch in den letzten Jahren beteiligt sich Pengutronix auch dieses Mal mit Vorträgen zu aktuellen Themen.
---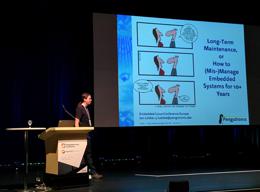 At the ELC Europe 2016 in Berlin our colleagues Jan Lübbe and Marc Kleine-Budde are talking about two interesting and important presentations about Kernel longterm maintenance strategies and verified boot.
---
Unsere Themen